Mother's day at Mak Mak | 母親節精選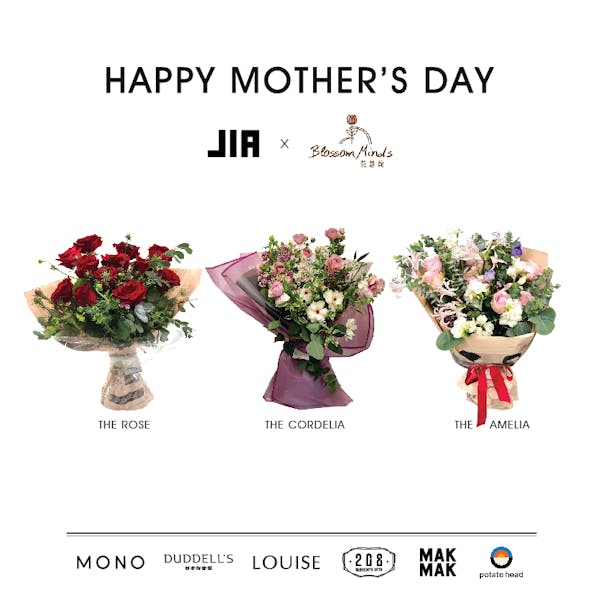 Weekend Brunch 早午餐
- 8th & 9th May -
12 pm-3 pm, Mak Mak is offering up a punchy feast of aromatic dishes from Central Thailand in unlimited amounts, which you can pair with free-flow drinks, cocktails, wine, and beer. Priced from $298 + 10% per person.
Mak Mak為各位提供泰國佳餚任食早午餐,亦設有無限暢飲,包括Veuve Clicquot「Yellow Lable」香檳和勝獅啤酒等。每位港幣298+10% 元起。

Mother's Day Set Dinner 母親節晚市套餐
- 8th & 9th May -
Pamper your loved one this Mother's day with a special set dinner menu at Mak Mak. We have put together an 8-course menu featuring Thai classics like tom yum soup, slow-braised lamb shank with massaman curry, mango sticky rice, and more!

What's more? Mom eats free upon a reservation of four or more (One person per table, for dinner only).

今個母親節,以Mak Mak的特別的晚市套餐寵愛你的摯親。我們為各位特備了8道菜精選套餐,包括、慢煮羊架馬沙文咖哩、椰汁芒果糯米飯等等!
由5月8至9日,客人凡預約訂座四人或以上,一位母親則可享免費用餐禮遇(只於晚市適用)。



Mother's Day Bouquet 母親節花束系列
- 8th & 9th May -

It's hard to find a gift that expresses just how much that special lady in your life means to you but a bouquet of freshly blooming flowers comes pretty close. For Mother's Day, we have partnered up with Blossoms Minds to offer you three choices of bouquets that'll melt her heart. (and help a good cause)! Once purchased, it will be waiting and ready at your table. Mother's Day has never been so easy.
Choose between these three options:
The Amelia, the Rose, and The Cordelia.

要找到一份禮物來能表達您生命中那位特別的女士對你的重要性是一件非常艱難的事,一束美麗的鮮花應該已經非常接近了。這個母親節,我們將與花慧綻合作,為各位提供三種花束選擇。快用美麗的鮮花融化她的心, 又可參與慈善活動!一旦成功預購,我們將為您安排在您光臨餐廳當天送到餐桌上,讓您輕鬆度過一個難忘的母親節。

在以下三個選項中選擇:
Amelia、Rose 或 Cordelia。
Pre-order Now 預約花束

Terms & conditions apply 優惠需受有關條款及細則約束